14. Favorite Youtube guru(s)?
Weylie- the first guru i started watching [:
Jen - the most recent guru I've gotten into [:
15. Do you wear blush?
- Nooo I don't. I really want to try blush though [:
| | | | | | | |
| --- | --- | --- | --- | --- | --- | --- |
| | | | | | | |
| Orgasm | | | | | | |
or Deep Throat?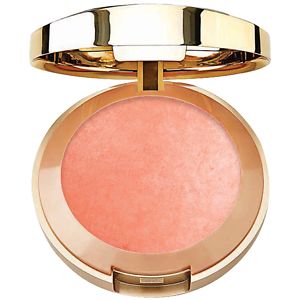 Milani's baked blush luminoso
Since I just want to try blush I'll probably go for Milani's [:
16. Do you copy any of the celebrity's make up?
- Nope I feel like a lot of them wear too much make up for my taste
17. Favorite make up artist?
-You know...I actually don't know of any....unless Youtube beauty gurus who make their own looks count?
18. What's your favorite night time look?
-I think for night time....more black comes out. Haha. Wait. Is this question just towards make up? In general, I think black looks really good on people. For make up, mascara could be heavier and maybe even a little more eyeliner (although thick eyeliner kind of scares me). For clothes, I would definitely put on a pair of heels/heeled boots [:
19. Favorite concealer?
- I don't use concealer o.o
20. Favorite eyeshadow primer?
- I actually didn't have a legit eyeshadow primer until a few days ago. I keep forgetting to pick one up so I just purchased a cheap E.L.F primer and I haven't really had the chance to test it out that much. So I do not have a favorite eye primer for now.